Seize the opportunities at Port of Hirtshals!
If your company works within transport, fishery or maritime service, it is worth assessing the transport patterns of the company. In many cases Port of Hirtshals can make just the difference that can be seen in every account - at the same time, we are naturally an attractive business partner for the companies at the port.
Get both green and blue benefits:
New patterns give new business opportunities.
Change of transport corridors reduces the carbon footprint.
Become self-sufficient on electricity with your own wind turbine.
Quay proximity and proximity to the motorway and the railway.
Be part of a strong cluster of companies at the port.
With direct access to the European motorway network and the sea lanes between the European west coast, Great Britain, Scandinavia and the Baltics, Port of Hirtshals offers unique opportunities for companies that focus on reducing their carbon footprint.

Four wind turbines are located at the port, and for interested companies it will be possible to invest in a wind turbine and thus produce its own electricity.

Port of Hirtshals is a dynamic port with a high activity level and a strong cohesion between the sea, the motorway and the companies at the port. Precisely the interaction between the companies at the port has proven to open more and new business opportunities.

Below you can find the commercial land or property that suits your particular company and where your company can grow.
Contact us
We know that there is a lot to consider about labour, location, cluster benefits, etc. but we are here to help you - so do not hesitate to call or write.

Port of Hirtshals
Phone: +45 96 56 50 00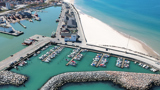 Choose your location at
Port of Hirtshals